PM Narendra Modi Felicitates Shikhil Sharma and Ananda Krishna from NIIT University (NU) at GCCS 2017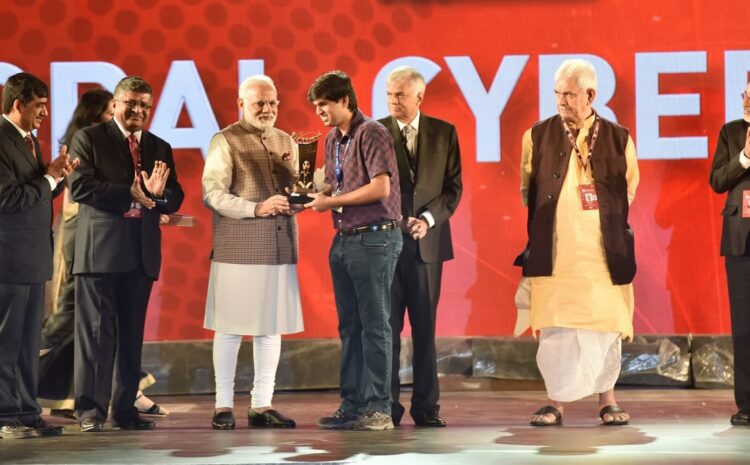 Shikhil Sharma and Ananda Krishna students of NIIT University (NU) class of 2016, won the Startup Pitch at the prestigious Global Conference on Cyberspace 2017. Astra, a web security solution, developed by these students was recognized as the "Most Innovative Startup" at the conference. The students were awarded by Honourable Prime Minister Shri Narendra Modi. Honourable Prime Minister of Sri Lanka Ranil Wickremesinghe and Honourable Minister of Law & Justice and Electronics and Information Technology, Govt. of India Ravi Shankar Prasad were also present on the occasion.
The Global Cyber Challenge is one of the major GCCS 2017 events conducted with the Ministry of Electronics and Information Technology (MeitY), National Critical Information Infrastructure Protection Center (NCIIPC), MyGov, Cyber Peace Foundation (CPF) and Policy Perspectives Foundation (PPF) as collaborators. The Grand Finale of the Global Cyber Challenge was a two-day contest organised on 20th and 21st November 2017 amongst the winning teams of the preliminary rounds. Hundreds of teams from throughout India and from countries like USA, Canada, France, Argentina, Australia and Algeria showcased their talent and competed in the challenge.
The challenge comprised two contests namely Capture the Flag and Peace-a-Thon event. Shikhil and Ananda won the Startup Pitch for exceling in the Peace-a-Thon category.
Congratulating Shikhil and Ananda Prof V S Rao, President, NIIT University said, "I am proud to see our students make a mark at the prestigious Global Conference on Cyberspace. With this win Shikhil and Ananda have set new standards in innovation and creativity. At NIIT University we have successfully established a new model of higher education that fosters critical thinking, innovation and research centric approach and inculcates lifelong learning. In fact, innovation is a way of life at NU and this has encouraged our students to come up with winning entrepreneurship ideas."
Beaming Shikhil Sharma and Ananda Krishna thanked the organizers of Global Conference on Cyberspace for the award. They also thanked the faculty of NIIT University for their constant support, encouragement and guidance.
Conceptualized as an institution of excellence, NU provides exceptional education based on the Four Core Principles that make learning Industry-linked, Technology-based, Research-driven and Seamless. NU, is well poised for meeting the emerging needs of the knowledge economy through its focus on building strong industry linkages and a research oriented approach.
Source: https://www.dqindia.com/pm-narendra-modi-felicitates-shikhil-sharma-ananda-krishna-niit-university-nu-gccs-2017/