Cybersecurity Tech Accord joins CyberPeace Foundation in the Global CyberPeace Challenge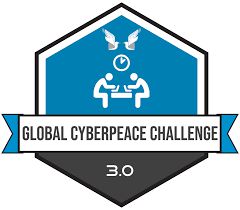 The Cybersecurity Tech Accord is excited to announce its support of the Global CyberPeace Challenge, a competition that encourages youth innovators from around the world to promote peace in cyberspace by solving crucial techno-social issues. Organized by the CyberPeace Foundation, this virtual event will feature workshops, speakers, and competitions beginning October 2020, culminating on Safer Internet Day (9th February, 2021), when the winners will be announced and prizes worth up to $30,000 will be distributed.
The global competition will be divided into three parts: CyberPeace Policy & Strategy Challenge, Peace-a-thon, and Capture the Flag (CTF). Each are designed to inspire solutions to critical real-world problems. We look forward to supporting the competition focused on CyberPeace Policy & Strategy, a competitive crisis simulation where participants respond to a realistic international cybersecurity incident. The exercise aims to understand the policy and strategic challenges associated with managing a crisis on an international level, underpinned by the technical, operational, geopolitical, and legal questions that surface. Our role will include the development of a problem statement for the simulation exercise and serving as a member of the jury.
"At the Cybersecurity Tech Accord, we believe in an inclusive approach to protecting our internet ecosystem," said Annalaura Gallo, Cybersecurity Tech Accord spokesperson. "As threats evolve and become more sophisticated, greater security and stability in cyberspace will require collaboration across disciplines and fresh ideas. Now more than ever, we need young talent to join the conversation and hope that the Global CyberPeace Challenge provides them with a platform to showcase their work."
"The Global CyberPeace Challenge coincides with lockdowns worldwide due to COVID-19, which has caused many to move their daily activities online. This change has uncovered several challenges at the national and international levels," added Vineet Kumar, Founder and President of the CyberPeace Foundation. "The Global CyberPeace Challenge aims to help solve some of the most urgent cyber issues through collective resilience and collaboration. Overall, we hope to help make cyberspace accessible and inclusive, and look forward to recognizing and rewarding innovative solutions."
If you are interested in learning more about the competition or want to participate in the event, you can find more information on the Global CyberPeace Challenge website. Registration closes on 15th December 2020.
Source: https://cybertechaccord.org/cybersecurity-tech-accord-joins-cyberpeace-foundation-in-the-global-cyberpeace-challenge/